Mission Statement
The mission for Dementia Friendly Evanston is, through community-wide education, outreach, collaboration and advocacy, to maximize the quality of life, community participation, and independence for Evanstonians living with dementia and their care partners.
---
Vision Statement
Our vision is to create a welcoming and barrier free community for individuals with dementia and their care partners through collaboration, compassion, support and stigma reduction.
---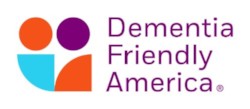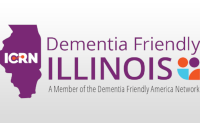 Dementia Friendly Evanston (DFE) falls under the purview of the Community and Health Services sub-committee of Age Friendly Evanston task force. Age Friendly Evanston's mandate is to make recommendations regarding the creation and implementation of a city wide action plan based on the objectives of World Health Organization's (WHO) Age Friendly Communities Program. This program is an international effort to help prepare for a global demographic trend: the rapid aging of populations.
Our Dementia Friendly Evanston resources page contains documents of interest for persons and care partners of people with Alzheimer's disease as well as information on support groups, quality of life and research programs. This page is updated as new information comes to us.
Dementia Friendly Evanston is listed by Dementia Friendly Illinois as a community in Illinois engaging in the Dementia Friendly America movement.
There are four phases for Dementia Friendly Community Planning and Implementation outlined by Dementia Friendly Illinois.
Convene key community leaders and members to understand dementia and its implications for your community. Then, form an Action Team.
 
Engage key leaders to assess current strengths and gaps in your community using a comprehensive engagement tool.
 
Analyze your community needs and determine the issues stakeholders are motivated to act on; then set community goals.
 
Act together to establish implementation plans for your goals and identify ways to measure progress.
---
Dementia Friendly Evanston Committee Members
Chair
Jeanie Ramsey
Members
Rebecca Cacayuran, Evanston Community Foundation, Program Officer
Susan Cherco, Age Friendly Evanston, Chair
Hylene Dublin, LCSW, BCD; LFAGPA
Alan Factor PhD, Commission on Aging, Chair
Melissa Gelfand, CJE, Director of Adult Day Services and Transportation
Carolyn Lickerman,  Age Friendly Evanston: Community + Health Services;  Housing Committee
Bonnie Lockhart, RN, Commission on Aging, Visiting Angels of Evanston
Mary McCulloch, North Shore Village, Member Services Coordinator
Irene Pierce, RN, Age Friendly Evanston, Chair Community & Health Services Committee
Angela Roberts, PhD, Northwestern University, assistant professor Roxelyn and Richard Pepper Dept. of Communication Sciences and Disorders
Rita Sheinin, LCSW
Barbara Sittler, LCSW, M.Div, Argentium Care, Community Outreach Coordinator
Audrey L. Thompson, City of Evanston, Long-Term Care Ombudsman
Jane Wickenkamp, LCSW, Age Friendly Evanston, Housing Committee
---
Dementia Friendly Evanston meetings are held the 3rd Friday of the month at 11:00 am on the 11th floor of the Mather, 425 Davis Street, Evanston. For more information about the Dementia Friendly Evanston Initiative, please contact Carolyn Lickerman and Alan Factor. 
---
We have put together a collection of links to places where you can to go find more information, to become a Dementia Friend, or to partcipate in a research study and help the medical profession learn more about dementia.  
---
For general information about Alzheimer's Disease and associated diseases please contact the Alzheimer's Association.