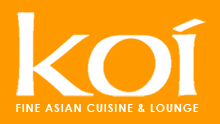 January is a great month! There is a lull in holiday madness and you haven't broken all your New Year resolutions yet ! And hey, it may be January but winter can't last forever!
You know what's really great about January? For ALL of January you can call Koi Fine Asian Cuisine for reservations and specify Table 23. You will get great food, great service and a great deal! What's the great deal? You get 10% off your dinner AND Koi restaurant will donate 20% of the total check to SASI!
Celebrate all month – make reservations for Table 23 at KOI 847.866.6969
Remember you must make reservations and you must request Table 23 for this offer.
Koi Fine Asian Cuisine and Lounge
624 Davis Street, Evanston
847.866.6969
There is plentiful street parking and a City of Evanston parking garage is one block west of Koi at the corner of Davis and Benson.
See you there!