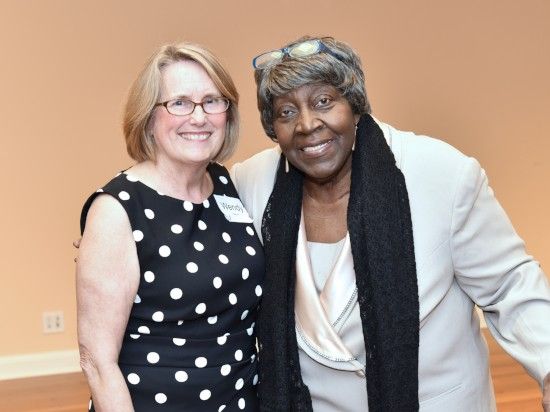 The annual Appreciation Tea for volunteers and participants in SASI's Senior Connections program was held  Sunday, April 22nd, at the Presbyterian Homes in Evanston.
Over 100 people enjoyed delicious food provided by the Presbyterian Homes and entertainment by The Keynotes, Northwestern University's premiere graduate student a cappella group.
Northwestern University's involvement and support of the Senior Connections program goes back over 20 years with more than 200 Northwestern University graduate and undergraduate students who have generously donated over 10,000 volunteer hours to Senior Connections.
Several people involved in the Senior Connections program were honored with awards. The Wendy H. Klinkner Volunteer of the Year Award, for an individual who best exemplifies the character and qualities that carry forth the mission of honoring seniors and keeping them engaged in the community through one-on-one visiting friendships, was presented to Evanston resident Martha McDonald.  The Alexander S. Butkus Award established in 2011, is presented annually to acknowledge and honor an extraordinary individual who has promoted the growth and sustainability of the Senior Connections program. This year the award was given to Julia Hagwood. Julia has been an active supporter of the program both as a visiting volunteer and as an engaged board member.
Speakers at this year's event were graduate student and volunteer, Gokce Kahvecioglu Askin and undergraduate student and volunteer, Cody Link. 
Both proudly saluted their program participants Joann Robson and Don & Linda Dixon.
If you would like to become a volunteer or refer a senior for a volunteer visitor, contact Jonathan Tague at Senior Connections 847- 869-0682 or  jtague@sasiathome.org. There is no cost to any senior for participation in the program.
View photos of the event: http://www.sasiathome.org/news-events/appreciation-tea-2018-photos.html