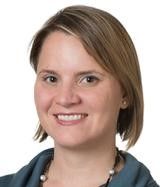 Emily Rogalski, PhD, Associate Professor of Psychiatry and Behavioral Sciences and Associate Director of the Mesulam Cognitive Neurology and Alzheimer's Disease Center (M-CNADC), leads the SuperAging Research Program at Northwestern University's Feinberg School of Medicine. She is one of Crain's Chicago 2017 "40 Under 40."
Since joining the faculty at the CNADC in 2008, Dr. Rogalski has added to the scientific knowledge of how humans age by looking at the factors associated with positive outcomes in the group of people she refers to as SuperAgers. SuperAgers are those people 80 and older who have terrific memories – as sharp as people 20 to 30 years their junior. This group is defying some of the images and preconceived notions of what aging can mean.
Is there common ground in the ways that aging has affected — or not affected — the cognitive function of SuperAgers? Dr. Rogalski's research addresses that question, and others.
Join us at the 2018 Ruby Slipper Event as she tells us about the study, its findings, the questions answered . . . and unanswered.