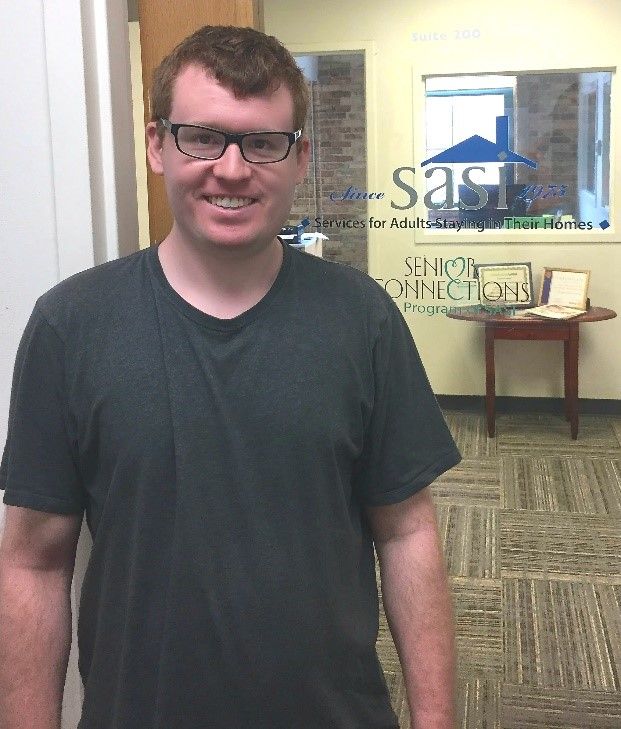 Cody Conlon has been volunteering with SASI since October 2017. He learned about us through Center for Independent Futures, as a way to get more involved in the community and learn new skills. Cody is one of our office volunteers that supports SASI with administrative tasks once a week. He has been a big help in our Finance Department with filing, organizing, and mailings. The SASI team looks forward to Cody coming in every week.
Why did you want to volunteer at SASI?                                                                                           
I wanted to volunteer because working with seniors is both important and meaningful work. Since the 1970s, SASI has served the Evanston area and beyond, establishing a close relationship with the local community. SASI mission and history of ensuring quality and affordable services for older adults solidified my initial interest to volunteer. After my first time volunteering, I immediately felt included by the SASI staff.  
What has been one of your favorite volunteer projects?
Working closely with the finance department and assisting with mailings are two of my favorite roles at the office. I am flexible and happy to assist with any assignment.
What have you learned from your volunteer experience at SASI?
I have learned the value of productive time management, the importance of organization, and teamwork. Additionally, volunteering in the office has contributed to a better understanding of senior services.