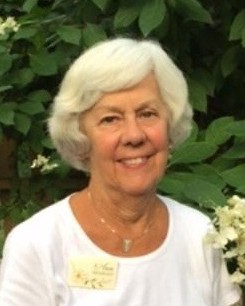 SASI Volunteer of the Month for October, 2018 - Ann Searles
Ann Searles has been a dedicated member of SASI Board of Directors for more than ten years and an instrumental volunteer on SASI's annual benefit committee, The Ruby Slipper Event, serving as a past co-chair. Her strong involvement in her community includes Rotary Club of Evanston Lighthouse, Highland Garden Club of Evanston, St. Matthew's Episcopal Church, just to name a few, exemplifying what makes an amazing volunteer and leader. SASI is lucky to have Ann as a board member who continues to lead the organization's mission to support older adults to remain in their homes.
Why did you want to volunteer on the SASI Board of Directors?
SASI began as a small organization administering a part time and temporary employment clearing house and housesitting services. These two programs helped seniors remain partially employed in an economic downturn and offered a service to homeowners who would be out of town. It has been exciting to watch SASI evolve into an impressive non-profit with a range of services including home care and Senior Connections program. I always feel proud to be associated with an organization with such a good reputation.
What has been one of your favorite memories during your time at SASI?
Some of my favorite memories involve working on the Board and the Ruby Slipper Event. Two women with whom I served, Helen Heyrman and Ellen Browne, were so knowledgeable and respected in the field of aging. Each taught me special things with charm and good humor. The community benefited largely from their contributions and still mourns their loss even after several years. Everything that they did was accompanied by love. I was very lucky to have known both of them.
What have you learned from volunteering with/in support of older adults?
It is interesting to serve on this board because I learn something at every meeting. Information on current senior needs and trends are shared with everyone.
All people, including but not exclusively seniors, need to be connected to other human beings. The human connection is vital for mental health at all ages. Seniors also have a wealth of knowledge and experiences to share. They enrich my life!