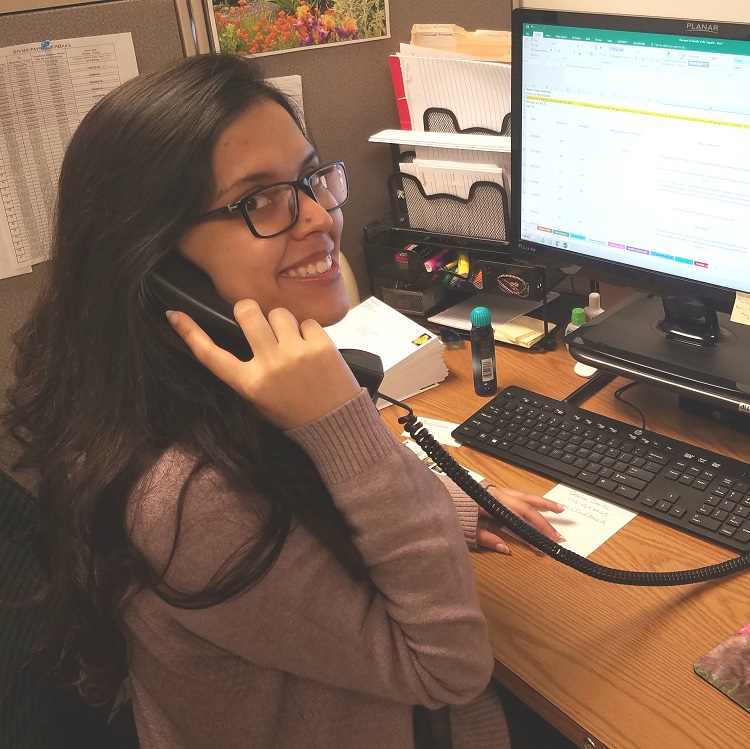 May 2019 - Rameen Masroor
Rameen Masroor has been volunteering as an Argentium Senior Connections Friendly Caller since September 2018. The friendly caller program is another way that we stay connected with some of our participants who might be waiting for a new friendly visitor, who want a weekly well-being check, or who are feeling lonely and enjoy a friendly conversation. Every week, Rameen calls ten Senior Connections participants and really has become to know them well over the course of this academic year. Rameen is a Pre-Dentistry student at UIC. We are happy to have her as a volunteer and so are our seniors.
Why did you want to volunteer at Argentium Care?
I first came across Argentium Care online. I read about their mission and all the work they did, and it was all very inspiring. I thought if there is anything I can do that contributes to this mission and helps people who spent their lives making society better, I'd be happy to do that. 
What is one of your most memorable moments as a friendly caller?
I love hearing about what they did throughout the week. My favorite conversations are when seniors share stories from their personal lives, like how they spend holidays, how they are planning to celebrate their birthday, how they used to celebrate their birthday, what they used to cook on Christmas for their families, how much they love their pets, stories about their moms, family reunions and so many other things. 
What have you learned from volunteering with older adults?
One thing I realized while talking to all the seniors is that life is short and that human connection is an important part of it. No matter what age, we always need someone we can trust and confide in, and it makes me value people in my life more.