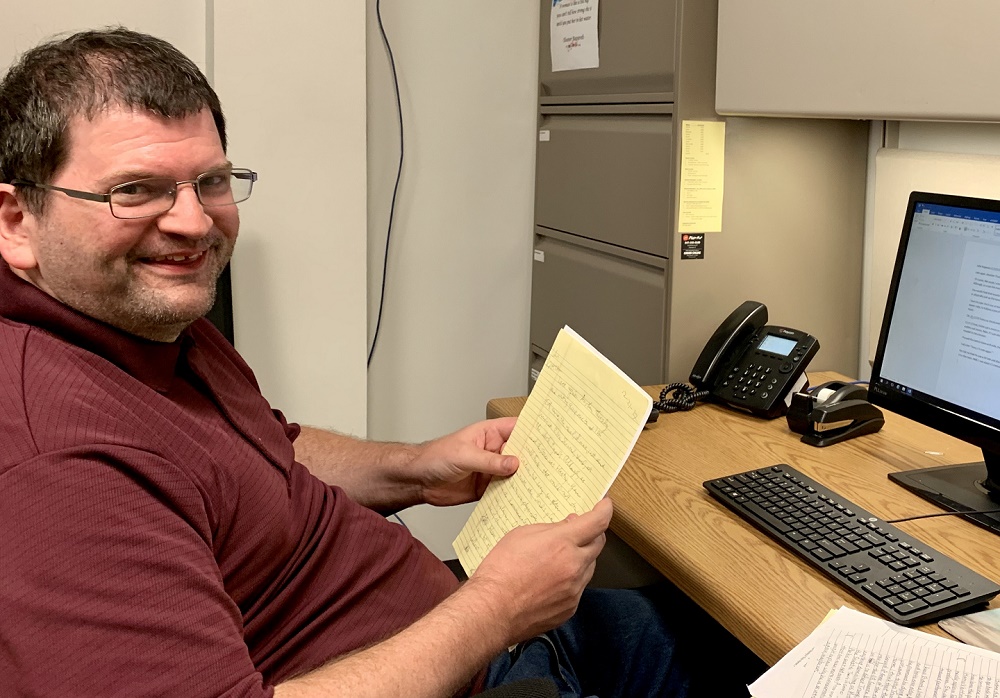 July 2019 - Congratulations to Dave Thompson
David has been volunteering with Argentium Care since February 2018. He supports our administrative team with office tasks such as transcribing stories from our writing groups. David shows enthusiasm for every project he helps with and has demonstrated his reliability and attention to detail each week. We are delighted to have David as one of our loyal office volunteers and highlight him as our July Volunteer of the Month.
Why did you want to volunteer at SASI?
When I first came to interview for volunteering at Argentium (SASI when I first started), I was just a few months removed from moving from my long time home in Northwest Indiana to Evanston. Before I moved to Evanston, I started attending No Boundaries program located in Evanston. One of the modules (assorted topics about careers, work, and other aspects of life) that they talked about was volunteering. As I was looking for places to volunteer, there were some places that seemed to resonate in my mind. However, I was drawn to this opportunity (at least in part) because the death of my mother back in July 2015 was still pretty fresh in my mind. She died from complications of COPD just 2 months after turning 74 years old.
What has been one of your favorite volunteer projects/events?
While I have done a lot of typing of handwritten stories in the days since I've started coming here (and don't get me wrong, I like reading them and keying them in), I sometimes enjoy doing other things. Every so often, I've assembled folders for prospective new clients. I also enjoyed helping out on a mailer working with someone I've gotten to know from Center for Independent Futures, Cody Conlon along with 2 to 3 other people (that was a project in itself). I also was helping prep name badges for when SASI did the brand switch to Argentium.
What have you learned from your volunteer experience at SASI?
If anything, the benefit I get from this experience is more the practicing of office work skills, some of which I had learned before I started here. In addition to volunteering at Argentium, I am working in the back room at the Marshall's in Skokie. I am also involved with the Arts of Life two days a week. On Tuesdays, I rehearse with the Van Go Go band as its percussionist and on Thursdays, I am doing artwork. I also participate in multiple activities with Center for Independent Futures.