This form stopped accepting submissions on May 3, 2019 5:00 pm CDT.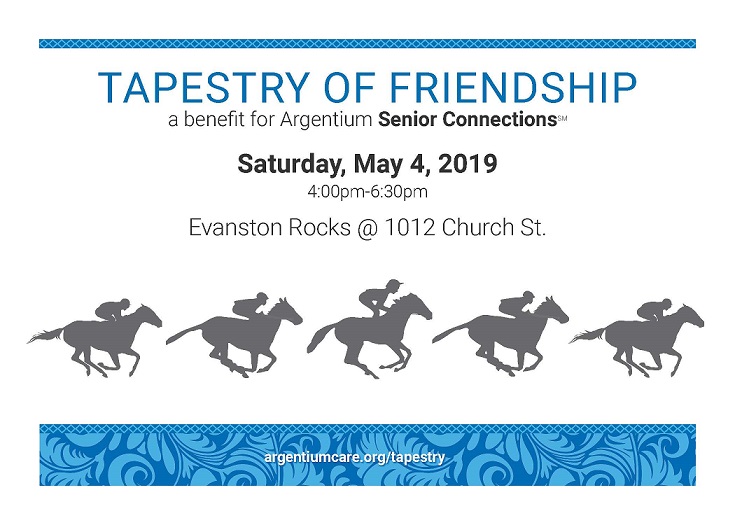 You're invited to a day at the races! Put on your best hats and bow ties and join us at Evanston Rocks for a live broadcast of the Kentucky Derby, southern fare, mint juleps and more. 
Feeling lucky? Pick your horse and place your bets on the raffle drawings listed below—there's something for everyone and tickets are only three for $20. You may put all of your tickets towards one package or divide them as you wish. 
Tickets are $100 each, including drink tickets and hors d'oeuvres.  Purchase reservations and/or raffle tickets online at the link above, or call our office at 847-864-7274, through May 3. Please note: you MUST be 18 or older to purchase raffle tickets, but you don't need to be present to win.
Proceeds support Argentium Senior Connections, matching visiting volunteers with older adults for one-on-one weekly visits. Because of you, in 2018 we served 100 older adults in Evanston, Chicago, Skokie, and Wilmette and we are on track to serve even more in 2019. 
---
This form stopped accepting submissions on May 3, 2019 5:00 pm CDT.
---
Live Auction Preview
We have several exciting prizes for our live auction! Go for a cruise, see a play, catch the Cubbies or create a masterpiece.  
Lake Michigan Adventure - $400 Value

• The 2019 Sailing Season is about to begin and what could be a better way to enjoy it than with a lunch or dinner cruise just for you and 3 of your very best friends on the BIGFOOT DREAMS, a fully restored tugboat moored in Chicago's Monroe Harbor.

--------------------------------------------

Go Cubs Go! - $424 Total Value

Annnd, the batter steps up to the plate. He swings...*CRACK*...and it's a HOME RUN! Catch all the excitement at Wrigley Field with this package:
• Cubs Game: Saturday, June 8 Vs Cardinals, Section 505, Row 3, Seats 1-3
• Cubs Game: Saturday, June 22 Vs Mets, Section 505, Row 3, Seats 1-3
• Lettuce Entertain You Gift Certificate

--------------------------------------------

The Artist in You - $600 value

This is your chance to discover your creative side, and to help someone else discover theirs too!
• Pastel by Barbara Sittler, local artist and former Senior Connections Executive Director
• One River School of Art + Design- Art Classes (4 week sessions) for Two
• Bonus: You are also supporting a Senior Connections pair (senior + volunteer) to attend One River School of Art + Design classes together.

--------------------------------------------

The Ultimate Date Night - $320 Total Value

Not just one, but several date nights! Enjoy French-American cuisine in an elegant setting and then head out for some blues or a play at the Fleetwood Jourdain Theatre, one of Evanston's top-rated venues.
• Fleetwod Jourdain Theater 2019 Premium Gold Memberships for Two, includes 3 plays and 2 concerts.
• Oceanique- Chef's Five Course Dinner for Two
---
Raffle Prizes
All Around Evanston

Gallop around town from one restaurant to another. This hodgepodge of things to do around Evanston is a great way to explore the city, shop at local boutiques, and dine at eclectic restaurants. $300 Total Value with gift certificates from the following businesses:
• Williams Shoes The Walking Spirit
• Uncle Dan's
• NaKorn Restaurant
• Trattoria DOC
• Siam Splendor
• Pinto Thai Restaurant
• Maya Papaya & Tony Macarony
• Dave's Rock Shop
• Windy City Nursery

--------------------------------------------

And They're off…to Skokie

Giddy up for great food and fun in Skokie! $312 Value.
Participating merchants include:
• Skokie Valley Symphony Orchestra- Four Main Floor Tickets for Three Old Masters on June 30th
• CMX Cinemas Old Orchard Movies for Two
• Shake Shack Old Orchard
• Dengeo's
• Annie's Pancake House
• Herm's Palace

--------------------------------------------

Feeling Lucky? Treat Yourself

Be a winner and pamper yourself at the spa and more. We all need a break sometimes, get your hair and nails done, and then spend a relaxing night at home too. $365 total value, with gift certificates from:
• Art & Science- Color Service with Mara
• Millefiori Florist
• Aim & Ailie Hair Boutique
• Alya's Originals Necklace w/ matching earrings
• Mani/Pedi at Serenity Nails & Spa
• Wine, Candle, and Bath oils

--------------------------------------------

Talk Derby to Me

Bourbon, bourbon, and more bourbon, you're speaking my language. What better way to celebrate the Derby than bourbon! Plus, all the ingredients included for a good old fashioned cocktail. $225 total value:
• Journeyman Distillery Featherbone Bourbon (Three Oaks, MI)
• Maker's Mark Kentucky Straight Bourbon Whisky
• Bulliet Bourbon Frontier Whiskey
• Basil Hayden's Kentucky Straight Bourbon Whiskey
• Angostura aromatic bitters
• Luxardo Maraschino Cherries
• Old Fashioned Cocktail accessories
• Kentucky Derby swag

Must be 21 or older to win this package.

--------------------------------------------

Brunch, Please!

Race for the pancake and the mimosas, of course! Brunch is most important meal of the weekend, either dine at local eateries or create your own at home. $200 total value:
• La Macchina Café
• Symphony Restaurant on Central
• Brunch cocktails @ Lulus/Taco Diablo/Five&Dime
• Make your own Bloody Mary- Wheatley Vodka (made by Buffalo Trace Distillery, Kentucky) & Mix
• Bottles of Champagne
• Old Town Oil, boxed gift set of two bottles
• Derby Coffee mug w/ bag of coffee
• Pancake mix with real maple syrup

--------------------------------------------

Animal Kingdom

Named after 2011 Kentucky Derby winner, Animal Kingdom. Animal lovers, this one is for you, and a photo shoot with your furry friend. $845 Total Value
• Sutton Studio (Pet Portrait Package)
• Assortment of Dog/cat treats
• Farmhouse Evanston gift card
• And More!!

--------------------------------------------

I'll Have Another

Hold on to your hats, must be at least 21 to enjoy these lux liquors. Named after the 2012 Kentucky Derby winner, with this package you can have one after another, after another. Cheers! $200 Total Combined Value,
• Gin
• Scotch
• Barrel Aged Tequila
• Journeyman Distillery Bilberry Black Hearts Gin (Three Oaks, MI)
• Bourbon
• 2019 Official Derby Glasses

Must be 21 or older to win this package.

--------------------------------------------

Please Note

Specific contents of Raffle Drawing are subject to change without prior notice—substitutions will be made at the discretion of SASI and will be of equal or greater monetary value.
This form stopped accepting submissions on May 3, 2019 5:00 pm CDT.
---